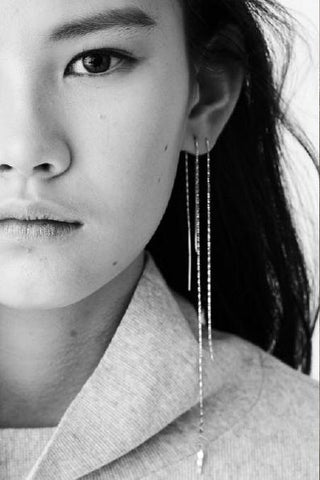 FEATURED LABEL:
X te: [페르테]
Seoul / Korea
xte.co.kr
X te, pronounced "per te" means "for you" in Italian.

The meaning behind the brand has love as a base and can be interpreted as "I desire you" and "Two as one".
The philosophy is to express love by giving "me" and "you" the same meaning.
Women have two instincts within herself.
One that wants to be seen and one that does not want to be seen.
And out of all instincts, carnal desire is one that is hardest to express and control.
When there is an overflow of this instinct, she can be viewed as being vulgar, and when there is too little of it, a woman is just viewed as any other human being.
A woman that x te admires is someone that can sophisticatedly express their delicate feminine desire as less is more.
X te is for someone that can find the candidness behind the various expressions of innate human nature.
It is a brand that is for that special someone who can find the poetry that is hidden behind each piece of jewelry.
Jewerly Alchemy for Your Skin.
Most commercial jewelry is designed so that when worn, the jewelry is what people focus on.
Always thought that it was not very elegant and chic when people notice the jewelry before the person who is wearing the jewelry.
X te's theory was always that the jewelry should assist and make the person who is wearing the jewelry stand out. With these thoughts in mind, x te came to birth in 2015 in Milan.
Everyone's skin needs a little something to make it shine.
Just as an alchemist in the ancient times brewed a magical formula so that a woman can rediscover their youth and sexiness, x te presents a collection with colors that fits each individual's skin tone in order to promote uniqueness.
The packaging also reflects this story by putting the jewelry in a prescription bottle as a symbolism that the jewelry will heal as a Medieval alchemist fills a bottle with magical serum.